Announcements_____________________________
March Issue of Desert Breeze Available
The March issue of the District's quarterly news letter the Desert Breeze is now available. Click Here to download a copy. Hard copies are mailed to subscribers and made available at the District office. Future issues can be accessed on this website on the Desert Breeze page.
Rule Adoption Notice
NOTICE IS HEREBY GIVEN a public hearing will be held on March 12, 2015
beginning 2:00pm at Rosamond Community Services District, 3179 35th Street
West, Rosamond, CA. At the hearing Eastern Kern Air Pollution Control District
(District) Governing Board will consider adoption of the following:
Proposed Revision of Fee Rules 301, 302, and 303-Updated 2/19/15
Proposed Revision to Rule 402 - Fugitive Dust-Updated 2/24/15
Proposed Rule 402.2 - Agricultural Operations-Updated 2/25/15
Staff reports for the proposed rules can be downloaded by clicking on the links above and hard copies can be obtained at the District Administrative office located at 2700 M St, Ste 302, Bakersfield, CA 93301. You may also contact the District at (661) 862-5250 or ekapcd@co.kern.ca.us and request a copy be sent to you.
A public workshop was held September 16, 2014 at the Mojave Veteran's Center in Mojave, CA. The California Air Resources Board (ARB) and the US Environmental Protection Agency (EPA) also reviewed and provided comments for the proposals. All comments have been considered and addressed in the final draft of each proposed rule's respective staff report.
A public hearing was held on January 8, 2015 beginning 2:00pm at Golden Hills Community Services District, 21415 Reeves St, Tehachapi, CA. to consider adoption of revisions to District Rule 301, 302, 303, 402 and adoption of Draft Rule 402.2. Due to numerous comments received at the meeting that there was not adequate public outreach or noticing of the rules, the Governing Board decided to allow an additional 30-day public review and comment period.
Once adopted, Rule 402 and 402.2 will be submitted through ARB to EPA for incorporation as part of the California State Implementation Plan (SIP). This action would constitute a SIP revision.
Review & Comment: US Borax Title V Permit Renewal
Pursuant to the Eastern Kern Air Pollution Control District (District) Rule 201.1 (Permits to Operate for Sources Subject to Title V (Title V) of the Federal Clean Air Act Amendment of 1990), a Federal Part 70 Permit Renewal has been drafted for US Borax, Inc, 14486 Borax Rd, Boron, CA. Borate mining and processing is performed at this facility.
PERMITTING ACTION:  The District issued an initial Title V Permit to Operate to this facility in 2001. The purpose of this permitting action is to update and renew the facility's previous Title V permit. No significant modifications have occurred to the permit. Once issued by the District and the US Environmental Protection Agency (US EPA) this permit will be valid for five years.
PUBLIC COMMENT PROCEDURES:  Copies of the Title V renewal application, draft permits, support documents, and the District's analysis are available for inspection By Clicking Here and at the District Administrative office located at: 2700 "M" St, Ste 302, Bakersfield, CA.  The District's analysis includes a statement of legal and factual basis for the proposed conditions and references to applicable statutory and regulatory provisions.  Federal enforceable conditions in this permit are subject to public review.  Other permit conditions are enforceable by the District only and are not subject to this public review process. 
Comments can be submitted in writing to the District. All comments must be received by 5:00 PM on March 19, 2015.  Members of the public may request the Air Pollution Control Officer preside over a public hearing for the purpose of receiving public oral comments.  Issues raised during the public comment period will be addressed in writing by the District before the renewal permit is issued.  The permits and all comments will be forwarded to US EPA Region IX and will be available for review after the 30-day public review process is complete.
US Borax Draft Title V Permit Renewal.pdf
US Borax Draft Title V Technical Support Document.pdf
Request for Proposal (RFP) Ridgecrest Air Monitor
The District is seeking a qualified Contractor to upgrade the existing air monitoring station located at the Ridgecrest City Offices in Ridgecrest California:
City of Ridgecrest
100 West California Avenue
Ridgecrest, California 93555
Submittal: Five (5) hard copies and one (1) electronic copy of the proposal must be received at the address below on or before:
Friday, March 6, 2015 – 5:00 PM
PROPOSALS RECEIVED AFTER THE TIME AND DATE STATED ABOVE WILL NOT BE ACCEPTED.
Address to: Glen Stephens, Air Pollution Control Officer
Eastern Kern Air Pollution Control District
2700 M Street, Suite 302
Bakersfield, California 93301
Mark Envelope: "Quote – Air monitoring station: Ridgecrest"
Issuance Date: February 5, 2015
Click Here for Complete RFP
DMV Grant Program Eligible Pickup Truks
There have been many recent requests for DMV Grant Program eligible 2015 pickup trucks. In response staff has compiled this list CLICK HERE FOR ELIGIBLE PICKUP TRUCKS. Data for this list was retreved 1/21/2015, it is subject to change/grow.
2015 Board Meeting Schedule
Starting January 8, 2015, Board Meetings will begin at 2 p.m.  Board Meetings are normally held the second Thursday of every odd month (1, 3, 5, 7, 9, and 11) except July, which is usually held on the last Thursday. Click here for a copy of the 2015 Board Meeting Schedule.
Open Burn Season Began 12/19/2014
It is open burning season in Eastern Kern.
How Smoke Can Effect Your Health
Smoke is made up of a complex mixture of gases and fine particles produced when wood and other organic matter burns. The biggest health threat from smoke comes from fine particles. These microscopic particles can get into your eyes and respiratory system, where they can cause health problems such as burning eyes, runny nose, and illnesses such as bronchitis. Fine particles also can aggravate chronic heart and lung diseases – and even are linked to premature deaths in people with these conditions.
People with asthma, heart disease, lung disease, older adults, and children are at greater risk of being affected by smoke. If you are healthy, you're usually not at a major risk from smoke but it's still a good idea to avoid breathing smoke if you can help it. It's important to limit your exposure to smoke, especially if you may be susceptible.
How to tell if smoke is affecting you:
Smoke can irritate the eyes and airways, causing coughing, a scratchy throat, irritated sinuses, headaches, stinging eyes or a runny nose. If you have heart or lung disease, smoke might make your symptoms worse. People with heart disease might experience chest pain, palpitations, shortness of breath, or fatigue. People with lung disease may not be able to breathe as deeply or as vigorously as usual, and they may experience symptoms such as coughing, phlegm, chest discomfort, wheezing and shortness of breath. When smoke levels are high enough, even healthy people may experience some of these symptoms.
Protect yourself:
Watch local news and weather stations, pay attention to health warning and air quality reports, you can also use the EPA's Air Quality Index (AQI). Use common sense; if it looks smoky outside, it's probably not a good time to mow the lawn, go for a run, or let children play outside.
If your advised to stay indoors take steps to keep indoor air as clean as possible. Keep windows and doors closed. Run an air conditioner if needed but make the fresh air intake is closed and the filter is clean. Do not use a swamp cooler as it will pull in lots of smoke from outside. If your house becomes to hot to be comfortable seek alternative shelter. If it is cool outside try to avoid anything that produces heat from burning such as a fireplace, gas logs, or a gas stove.
Click here for more information
EPA Clean Diesel News: 10/16/14
EPA's National Clean Diesel Campaign (NCDC) is now accepting applications for the 2014 School Bus Replacement Funding Opportunity.  This is a rebate program to replace older school buses in both the public and private fleets.  The total funding for this opportunity is approximately $3 million.  To learn more about the rebate program, applicant eligibility, and the selection process, please visit www.epa.gov/cleandiesel/dera-rebate-schoolbus14.htm. 
EPA will accept rebate applications until Monday, November 17, 2014, at 4 pm EST.  Applicants may submit only one application for up to five buses.  Applications may be downloaded from epa.gov/cleandiesel/documents/2014-clean-diesel-rebate-application.pdf.  Completed applications should be emailed to CleanDieselRebate@epa.gov with the subject line "DERA School Bus Rebate Application."  Please include your organization's name in the subject line.
EPA will offer a webinar for interested applicants on Wednesday, October 22 at 1 pm EDT.  The audio call-in for the webinar is 470-200-0302, access code 228-750-740#.  Participants may register at https://www2.gotomeeting.com/register/467125138.  
Questions about the rebate program should be sent to CleanDieselRebate@epa.gov. 
Healy Model 807 Swivel Breakaway Notice July 31, 2014
The Healy Stage II Vapor Recovery Model 807 Swivel Breakaway is installed on service station fueling dispensers between the product hose and the nozzle end (threaded onto the nozzle).  In the occurrence of a drive-off event, this product is designed to fully shut-off the product and vapor path with 350 lbs. separation force.
If you have purchased one or more Healy 807 Swivel Breakaway (hose break) parts during the period of January 2012 and March 2013.  
Through field reports and accompanying investigation in cooperation with the California Air Resource Board (CARB), Franklin Fueling Systems (FFS) has discovered some instances in which 807 Swivel Breakaways identified with a date code(represented by week and year) ranging from M2812 through M5012 did not perform as intended.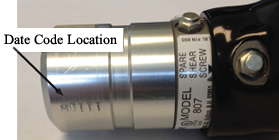 If you have purchased one or more Healy 807 Swivel Breakaway (hose break) parts during the period of January 2012 and March 2013 Please Check the Date Code.
To address potential safety issues, FFS is requesting you immediately replace all installed Model 807 Swivel Breakaways bearing a date code ranging from M0112 to M1213 with new or refurbished breakaways.
As a quality assurance check, FFS is requesting that all un-installed inventory of Model 807 Swivel Breakaways bearing a date code ranging from M0112 to M2514 be returned for manufacturing refurbishment and replacement of like product.
Please contact Franklin Fueling Systems Technical Services at 1-608-838-8786 to obtain an RGA number and arrange for replacement.
If you have any questions, contact FFS Technical Support at 1-608-838-8786.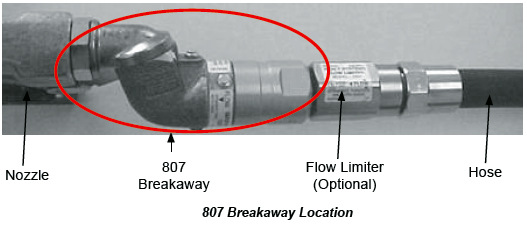 Updated Table for EVR Compliance Dates for ASTs
The existing AST EVR Timeline has been replaced with Enhanced Vapor Recovery Compliance Dates for Aboveground Storage Tanks table. The table now reflects the extension of the effective and operative dates for EVR Phase II vapor recovery and SD system for GDFS with ASTs.