Announcements_____________________________
Open burning season begins 12/3/2013.
The Kern County Fire Department announced agricultural crop waste, hazard reduction & noxious weed open burning season begins December 3, 2013.  Remember, you must obtain a Hazardous Reduction Burn Permit from your local fire station prior to any hazardous reduction burning and you must call that fire station the day of your planned burn to receive approval.
ICE Prescribed Burn Projects
Hazardous fuels reduction projects are scheduled on three mountaintops surrounding the Kern River Valley this winter.
The Kern River Ranger District expects to burn 500 acres this year in small units designed to minimize effects of smoke on the community while reducing the potential for large, stand replacing wildfires. 
The Ice project is located in the Greenhorn Mountains of Kern County adjacent to the community of Alta Sierra and the Red Mountain project is north and west of Rancheria Road off the Greenhorn Summit.  The Breckenridge project is adjacent to private lands on Breckenridge and the Sirretta project is located on the Kern Plateau.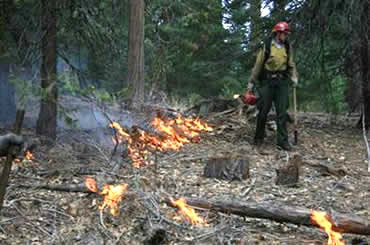 Fuel reduction activities on these projects will have beneficial impacts on health and safety in the project areas by reducing the risk of a stand-replacing fire and restoring natural ecosystems while improving public safety.

Forest Service crews have been working in the areas preparing fire lines and cutting ladder fuels to prepare for burning this fall.  Prep work is necessary to ensure the project work is accomplished safely and to provide control measures.  Included in the plan are both pile and understory burning (understory burns are controlled fires that consume surface fuels but not the overstory canopy).
Smoke may be visible from most communities surrounding Isabella Lake.  Road and/or trail closures are not anticipated.
Fire managers will work closely with the Eastern Kern and San Joaquin County Air Pollution Control Districts to reduce smoke production and reduce any local impacts. All projects are subject to meeting weather and are quality conditions.
For further information please contact Ernie Villa, District Fuels Management Officer at (760) 376-3781, extension 620.
Public Hearing Canceled
The public variance hearing scheduled for December 12, 2013 at 2:00 p.m. in the Mojave Air and Space Port Board Chambers, 1434 Flightline, Mojave CA has been canceled.  U.S. Borax, located at 14486 Borax Road in Boron, CA, petitioning for a  Regular Variance #13-05(R) from District Rule 201, has attained compliance and withdrawn it's petition.
Rules and Regulations Public Workshop
A public workshop to present, discuss, and receive comments on the following rules was held on Wednesday, November 6, 2013, from 10:00 am to 12:00 pm, at the Mojave Veteran's Building, 15580 "O" St, Mojave, CA 93501:
Revised Rule 410.4, Metal, Plastic, and Pleasure Craft Parts and Products Coating Operations
Revised Rule 410.4A, Motor Vehicle and Mobile Equipment Refinishing Operations
Draft Rule 410.8, Aerospace Assembly and Coatings Operations
Draft Rule 410.9, Wood Products Surface Coating Operations
Draft Rule 432, Polyester Resin Operations
The District will be receiving comments for a period of 30 days regarding Proposed Rules 410.4, 410.4A, 410.8, 410.9, and 432. All comments should be mailed or e-mailed to Jeremiah Cravens, Eastern Kern APCD, 2700 "M" St, Ste 302, Bakersfield, CA  93301, Email cravensj@co.kern.ca.us.
All written comments must be submitted by December 6, 2013.
Copies of the presentation and staff reports can be downloaded below.  If you are unable to download any of the documents, you can request copies to be mailed to you by calling (661) 862-5250 or faxing your request to (661) 862-5251.
Workshop Power Point Presentation
Rule 410.4, Metal, Plastic, and Pleasure Craft Parts and Products Coating Operations
Rule 410.4A, Motor Vehicle and Mobile Equipment Refinishing Operations
Rule 410.8, Aerospace Assembly and Coatings Operations
Rule 410.9, Wood Products Surface Coating Operations
Rule 432, Polyester Resin Operations
2014 DMV Grant Program
EKAPCD's 2014 DMV Grant Program began October 1, 2013 and closes January 10, 2014 at 5 p.m.  The DMV Program awards grants to projects that reduce oxides of nitrogen (NOx), reactive organic gas (ROG) and particulate matter (PM10) emissions from on-road motor vehicles.  The DMV Program may fund up to a maximum of $50,000 of a qualified project's cost.  Approximately $325,000 will be available for projects in 2014.
Click here for more information
September Issue of Desert Breeze Available
The September issue of the District's quarterly news letter the Desert Breeze is now available. Click Here to download a copy. Hard copies are mailed to subscribers and made available at the District office. Future issues can be accessed on this website on the Desert Breeze page.
Heavy-duty Off-Road Vehicle Rule Enforcement
On September 13, 2013, the U.S. Environmental Protection Agency (EPA) granted authorization to the California Air Resources Board (ARB) to enforce all provisions of the In-Use Off-Road Diesel Vehicle Regulation (Off-Road Regulation).
ARB has been enforcing the reporting, labeling, sales disclosure, and idle limitation requirements. In order to provide fleets adequate time to ensure compliance, ARB will phase in enforcement of various elements of the rule beginning January 1, 2014.
How Smoke Can Effect Your Health
Smoke is made up of a complex mixture of gases and fine particles produced when wood and other organic matter burns. The biggest health threat from smoke comes from fine particles. These microscopic particles can get into your eyes and respiratory system, where they can cause health problems such as burning eyes, runny nose, and illnesses such as bronchitis. Fine particles also can aggravate chronic heart and lung diseases – and even are linked to premature deaths in people with these conditions.
People with asthma, heart disease, lung disease, older adults, and children are at greater risk of being affected by smoke. If you are healthy, you're usually not at a major risk from smoke but it's still a good idea to avoid breathing smoke if you can help it. It's important to limit your exposure to smoke, especially if you may be susceptible.
How to tell if smoke is affecting you:
Smoke can irritate the eyes and airways, causing coughing, a scratchy throat, irritated sinuses, headaches, stinging eyes or a runny nose. If you have heart or lung disease, smoke might make your symptoms worse. People with heart disease might experience chest pain, palpitations, shortness of breath, or fatigue. People with lung disease may not be able to breathe as deeply or as vigorously as usual, and they may experience symptoms such as coughing, phlegm, chest discomfort, wheezing and shortness of breath. When smoke levels are high enough, even healthy people may experience some of these symptoms.
Protect yourself:
Watch local news and weather stations, pay attention to health warning and air quality reports, you can also use the EPA's Air Quality Index (AQI). Use common sense; if it looks smoky outside, it's probably not a good time to mow the lawn, go for a run, or let children play outside.
If your advised to stay indoors take steps to keep indoor air as clean as possible. Keep windows and doors closed. Run an air conditioner if needed but make the fresh air intake is closed and the filter is clean. Do not use a swamp cooler as it will pull in lots of smoke from outside. If your house becomes to hot to be comfortable seek alternative shelter. If it is cool outside try to avoid anything that produces heat from burning such as a fireplace, gas logs, or a gas stove.
Click here for more information
Clean Energy Variance
NOICE IS HEREBY GIVEN that a public hearing will be held on July 23, 2013 at 10:00 a.m. in the Mojave Air and Space Port, 1434 Flightline, Mojave CA.
Said hearing is to consider a Short Term Variance, Petition #13-01(s) received from Clean Energy LNG, LLC, located at 14436 Contractor Way, Boron, CA from District Rule 210.1 for the Cooling Tower and Eliminator from an exceedance of particulate matter emission limits.
All interested persons are invited to submit written comments and/or appear at said hearing. Written comments received no later than the time of the hearing will be considered in issuance of the final decision. Each decision will include requirements for the subject facility to comply with applicable Rules within specified time frames. A copy of the petition is available for public inspection at the address below.
All written comments should be addressed to: Glen E. Stephens, APCO, Eastern Kern APCD, 2700 M St, Ste 302, Bakersfield, CA 93301, (661) 862-5250, Fax: (661) 862-5251.
Open Burn Season Ended on 4/15/2013
Hazardous reduction, Agricultural Crop Waste burn season ended on 4/15/2013. Remember, an Agricultural Crop Waste, Hazard Reduction & Noxious Weed Burning Permit is required and you must check with your local fire department prior to any burning. You can obtain burn permits from your local fire department.
District PSD Rule becomes effective
On February 8, 2013, District Rule 210.4, Prevention of Significant Deterioration (PSD) became effective in the California State Implementation Plan (SIP).  Upon the effective date of this rule into the SIP the District became the PSD permitting authority for sources located within the District. See 77 Fed. Reg. 73316.
Historically, the U.S. Environmental Protection Agency (EPA), through the Federal Implementation Plan at 40 CFR 52.21, has administered the PSD permit program within the District.  The transfer of this authority from EPA to the District includes the authority to issue preconstruction PSD permits for new or modified facilities; as well as, the authority to conduct general administration of existing PSD permits issued by EPA for sources within the District, authority to process and issue any and all subsequent permit actions relating to such permits, and authority to enforce such permits.
Click here for a copy of Rule 210.4
Updated Table for EVR Compliance Dates for ASTs
The existing AST EVR Timeline has been replaced with Enhanced Vapor Recovery Compliance Dates for Aboveground Storage Tanks table. The table now reflects the extension of the effective and operative dates for EVR Phase II vapor recovery and SD system for GDFS with ASTs.