Announcements_____________________________
Erskine Fire Smoke/Health Advisory
Kern River Valley and Indian Wells Valley residents are advised to restrict outdoor activities in smoke impacted areas
Smoke from the Erskine Fire in the Lake Isabella and Erskine Creek area is impacting communities in the Kern River Valley and Indian Wells Valley. The entire Kern River Valley has been affected by the smoke, but the communities of Bella Vista, Bodfish, South Fork, Weldon, Onyx, Lakeland Estates, Mountain Mesa, South Lake, Squirrel Valley, and Yankee Canyon are expected to be the most heavily impacted. Additionally, communities of Canebrake, Freeman, Indian Wells, Inyokern, China Lake Acres, Ridgecrest and China Lake NAWS may be affected by smoke.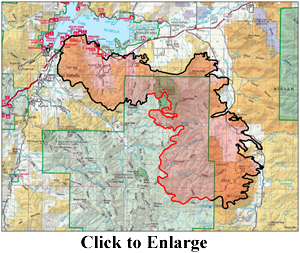 The District recommends that children, older individuals, and those with pre-existing heart and lung problems should avoid outdoor activity, whenever they can smell or see smoke in their immediate area. Effects can be as mild as a headache; eye, nose or throat irritation; or as serious as triggered asthma episodes or stresses on weakened cardiovascular systems. Adverse health impacts may also be seen in normally healthy individuals, if they are engaged in strenuous outdoor activities during periods of exposure to ground-level smoke.
Sensitive individuals should stay indoors in an air conditioned building with windows and doors closed whenever there is smoke at ground level in their area. Most residential central air conditioning systems re-circulate the air inside the home, so these can be operated normally; however, many commercial buildings and a small percentage of newer homes have mechanical ventilation systems that actively bring in outdoor air, and these should be set to a "re-circulate" mode, if available. If you are using a window air conditioner it should also be set to the "re-circulate" mode. Water or swamp coolers remove only a small portion of the smoke particles from the air that they bring in and provide little protection from the smoke. The District is recommending not use a swamp cooler that if there is smoke present in your area. Whole house fans should not be used until the threat of smoke impacts in your area is gone.
Click Here for latest Erskine Fire updates
How Smoke Can Effect Your Health
Smoke is made up of a complex mixture of gases and fine particles produced when wood and other organic matter burns. The biggest health threat from smoke comes from fine particles. These microscopic particles can get into your eyes and respiratory system, where they can cause health problems such as burning eyes, runny nose, and illnesses such as bronchitis. Fine particles also can aggravate chronic heart and lung diseases – and even are linked to premature deaths in people with these conditions.
People with asthma, heart disease, lung disease, older adults, and children are at greater risk of being affected by smoke. If you are healthy, you're usually not at a major risk from smoke but it's still a good idea to avoid breathing smoke if you can help it. It's important to limit your exposure to smoke, especially if you may be susceptible.
How to tell if smoke is affecting you:
Smoke can irritate the eyes and airways, causing coughing, a scratchy throat, irritated sinuses, headaches, stinging eyes or a runny nose. If you have heart or lung disease, smoke might make your symptoms worse. People with heart disease might experience chest pain, palpitations, shortness of breath, or fatigue. People with lung disease may not be able to breathe as deeply or as vigorously as usual, and they may experience symptoms such as coughing, phlegm, chest discomfort, wheezing and shortness of breath. When smoke levels are high enough, even healthy people may experience some of these symptoms.
Protect yourself:
Watch local news and weather stations, pay attention to health warning and air quality reports, you can also use the EPA's Air Quality Index (AQI). Use common sense; if it looks smoky outside, it's probably not a good time to mow the lawn, go for a run, or let children play outside.
If your advised to stay indoors take steps to keep indoor air as clean as possible. Keep windows and doors closed. Run an air conditioner if needed but make the fresh air intake is closed and the filter is clean. Do not use a swamp cooler as it will pull in lots of smoke from outside. If your house becomes to hot to be comfortable seek alternative shelter. If it is cool outside try to avoid anything that produces heat from burning such as a fireplace, gas logs, or a gas stove.
Click here for more information
Notice of Public Hearing
Proposed FY 2016-2017 Preliminary Budget
NOTICE IS HEREBY GIVEN the Board of Directors of the Eastern Kern Air Pollution Control District (EKAPCD) has set a public hearing to be held July 28, 2016, 2:00 pm at Golden Hills Community Services District, 21415 Reeves, Tehachapi, CA, for the purpose of reviewing the proposed Fiscal Year 2016-2017 Preliminary Budget and to provide the public an opportunity to comment.
A summary of the proposed preliminary budget, supporting documents and fee rules will be made available for review at least 30 days prior to the hearing.
Interested persons may appear at the hearing and make comments. Written comments are invited for consideration and will be received until the close of business on July 27, 2016. Such written comments may be submitted to Glen E. Stephens, PE, APCO, EKAPCD at 2700 M St, Ste 302, Bakersfield, CA 93301 (661) 862-5250, Fax: (661) 862-5251.
Click Here for Proposed Budget
2016 Board Meeting Schedule
Board Meetings will begin at 2 p.m.  Board Meetings are normally held the second Thursday of every odd month (1, 3, 5, 7, 9, and 11) except July, which is usually held on the last Thursday. Click here for the 2016 Board Meeting Schedule.
June Issue of Desert Breeze Available
The June 2016 issue of the District's quarterly news letter the "Desert Breeze" is now available. Click Here to download a copy. Hard copies are mailed to subscribers and made available at the District office. Future issues can be accessed on this website on the Desert Breeze page.
Commercial Solar Plant Permitting Requirements
The District has determined commercial solar power plants generate fugitive dust emissions (PM10) in Eastern Kern County.  Therefore, in accordance with Rule 201 (Permits Required) and 210.1 (New and Modified Stationary Source Review, NSR), the District is requiring each commercial solar facility obtain a District Air permit.